Top 10 Best Icon Packs For Android (Oct 2014)
The power of customization android provides to its users is just limitless. Making our phone look the way we want it to look should totally be in the hands of the user. So, if you're just like me and like personalising your device, then you,re at the right place. Icon packs is the first step to customize your device after your wallpapers. Icon packs help us change the look of our homescreen by replacing the boring old stock icons with new exciting ones. To apply these icon packs, third party launchers are required. The ones we recommend are :
Nova launcher
Apex launcher
Smart launcher
Go to the respective apps and head to the 'look and feel' section > icon theme >choose theme. Now, we shall see the best icon packs for Android.
Here are the top 10 best icon packs available in the Play Store:
1. Axis Icon Pack: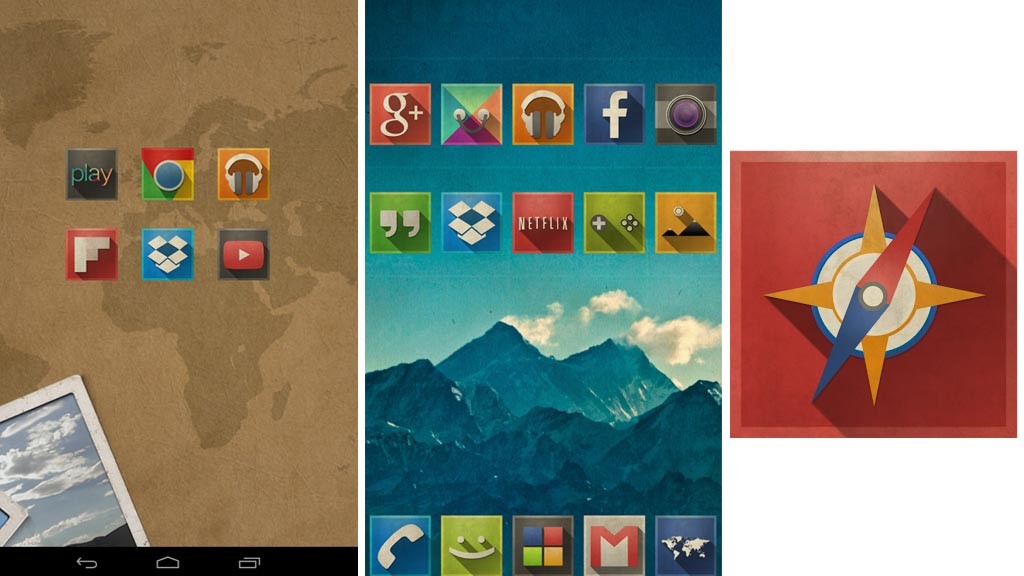 Axis icon pack has a very unique design style. It has a washed out look with drop shadows. The icon pack has 1800+ icons , and has regular updates. It also comes with 12 matching wallpapers, which enhances the look of the Homescreen. Definitely one of the best icon packs of all time. Can be found in the play store for $1.99
2. Jive Icon Pack
Another awesome icon pack with a simple and flat design. The pack contains over 930 icons and has a few custom wallpapers to make it better. Can be found on the playstore for $1.99
3. Moonshine
A brilliant flat icon design based on the upcoming android L Update for Android.  download for free here
4. Flatro
Something similar to jive icon but in a round package. Nice flat icons with a minimal colour scheme. A collection of 1150 icons with 24 custom minimal wallpapers! Find them here for $1.49.
5. Squircle
A brand new icon pack, with a totally new design concept, the name is derived from the shape of the icons , which is squircle. Packs over 800 hand crafted icons, with each icon having two variants. Download them for free here.
6. Around Icons
Flat round icons with a transparent ring around it. Definitely unique and one of my favourites. Download the lite version for free here to try 'em out.
7. Umbra- Icon Pack
Another round icon pack but with a totally different design language. It uses florescent colors with icons having drop shadows to bring a unique look to your screen. has over 1000 icons with a few minimal wallpapers. Can be purchased here.
8. Minimal UI
These colourful, flat and minimal icons come from none other than the designer KXNT. It contains about 1600 icons coupled with some brilliant self-crafted wallpapers. Definitely worth the price. Find 'em here.
9. Neon Pixelz – Icon Pack
Another awesome icon pack by KXNT.  Based on a 8-bit Neon design, these have to be the coolest set of icons out there. Find 'em here.
10. Belle UI
Another unique squircle icon pack with over 1315 icons. The design is based on Vector graphics and are all hand crafted. Get'em for free here.
These were my Top 10 icon packs. Share yours in the comments below. Also leave a comment for any queries!!