Best iOS 8 Widgets (The One's that Matter)
|
Best iOS 8 Widgets (The One's that Matter)
iOS 8 comes with the ability to add widgets to the notification center. There have been a lot of new additions to the App Store that allow widgets to be added, but only few of them actually have real functionality or purpose. In this post we're going to deal with the best iOS 8 widgets that actually matter. To install widgets, pull down Notification Center, scroll to the bottom, then tap the "Edit" button.
1. Quickgets- Snake
With Snake Quickgets you can easily play the popular Snake game on the Today screen, without unlocking the phone or searching at the icons on the screen. Spend those minutes of 'What I can do while … ? ' playing this well known and addictive game, integrated as widget on the Today screen.
You could also give Quickgets geo widgets a try!!
2. Evernote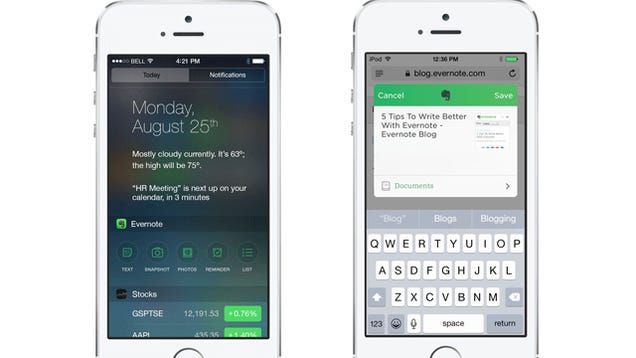 As you'd expect, Evernote gets all kinds of cool iOS 8 integration. You can now share directly to Evernote with the Share Sheet and you can set it up so Evernote's quick note bar is in Notification Center. Also you get these cool looking quick note buttons.
3. PCalc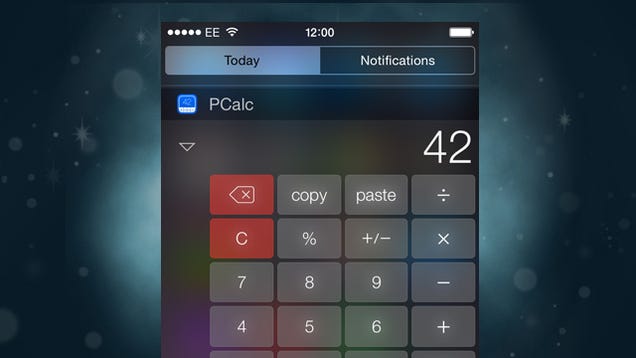 PCalc is a simple calculator that can be added to your Notification Center so you can quickly calculate anything you want.
4. Widgets – Calculator, Currency and Calendar
This widget needs no introduction, but for what it's worth, it does exactly as it purports. With a neat, clean interface in-keeping with iOS 8, it's almost faultless, and once installed, you can access these core utilities with consummate ease.
Download it on iTunes here.
5. ESPN SportsCenter
A must-have widget for sports fans.
Download it on iTunes here.
Now if you're jailbroken,  there are always some special perks reserved for you. 
You could give 'NCMemo' tweak a try. It is a simple lightweight tweak that lets you make instant notes by simply sliding down  the Notification center. Available in the Bigboss Repo for free.
Also you could try the awesome tweak 'IMN for iOS 8'. This tweak lets you add quick reply to third party messengers and adds a quick compose option to the NC. You could compose messages without appearing online! Available on the Bigboss repo for $1.99.
NCBrowser is a tweak that adds a full- powered browser to the Notification Center. Available in the Bigboss repo for $2. iOS 8 support coming soon!
Hope you liked this quick list of the best iOS 8 widgets. For suggestions or queries leave a comment below!!