Add Multiple Entries to Clipboard using MultiClips Widget for iOS8
|
Add Multiple Entries to Clipboard using MultiClipsWidget for iOS8
Many times we want to paste a previously copied link, but it's not there as we have already copied something else. That link has now been lost. This is because the clipboard can only take one entry at a time. But if you're jailbroken, you can take control of the situation and fix it. You can Add Multiple Entries to Clipboard using 'MultiClips Widget for iOS8' tweak. This tweak lets you add multiple entries to the clipboard via a notification center widget.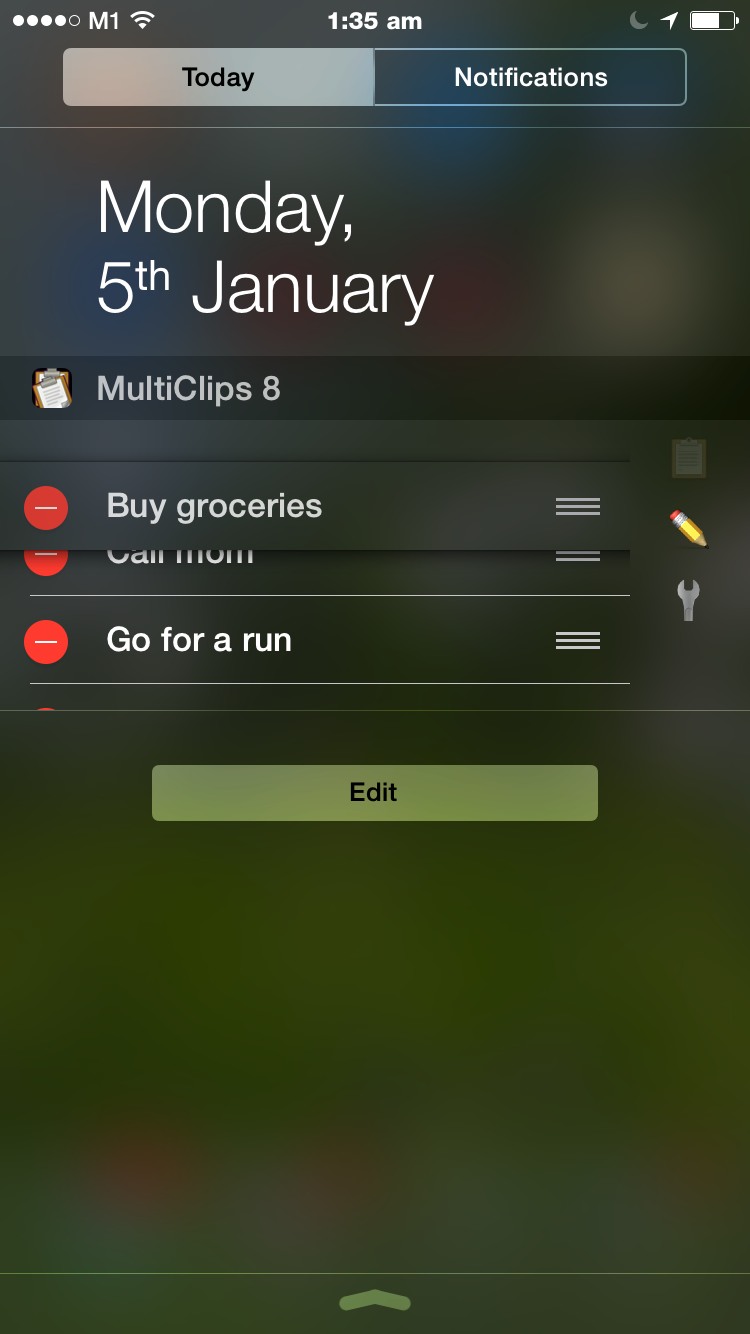 The tweak has a simple interface consisting of three buttons. The clipboard button adds whatever you have on your clipboard currently. The pencil button lets you add more entries manually to the list of clips. The tool button lets you reorder or delete entries from the list. Tapping on any of the entries makes it the current item on the clipboard ie. if you long press and press paste, the tapped entry is what will get pasted.
What makes this tweak even better is its accessibility from anywhere. As this tweak is a notification center widget it can accessed from anywhere including the lockscreen from the today's view. Another utility this tweak adds is of a memo as you can see in image above. This where the pencil button comes into use!
To add this tweak as a widget to the notification center, simply press the 'edit' button in the 'today' view and add press the 'add' button. The tweak can be found on the BigBoss repo for $1, a small price for such great convenience!
Hope you'll find this tweak useful. Any thoughts? Leave a comment!
Also checkout: Best iOS 8 Widgets (The One's that Matter)
You could try clips from the App store if you're not jailbroken.
Add Multiple Entries to Clipboard using multiclips